Last Updated on
Although Bitcoin volatility is still rather high, now it is the perfect time to trade the most rewarding asset of the century. It's better late than never.
Bitcoin is an asset like anything else before it. Other cryptocurrencies cannot touch it in terms of market share and adoption. The first move advantage has served the world's first cryptocurrency and instance of working blockchain technology well.
The asset has the potential to be a complete failure and go to zero, or could be someday worth millions of dollars per BTC, according to some expert analyst price predictions. Even the public agrees that the price of Bitcoin will someday reach between $100,000 to $1 million per BTC or higher.
From Bitcoin's Beginning Until Now
When Bitcoin was first launched, it was virtually worthless. Its first-ever recorded value was just $0.0008 according to Investopedia. Today, at roughly $10,000 the asset has increased by just under 1.25 million percent. No other asset in the world has provided a similar ROI. Although the earliest inventors weren't really investors at all but were miners and tech enthusiasts experimenting in what would become the Bitcoin we know today.
After over ten years in the market, and such enormous wealth already generated, many argue if it is too early or not to get into Bitcoin.
Blockchain Developer Compares Crypto To CompuServe Era Internet
ConsenSys developer and Baseline Protocol Co-founder, John Wolpert, believes that if you compare crypto to the internet, the current state is more like the 1980s internet versus what we see today. Wolpert told CoinTelegraph:
"Even if you plot a one-to-one relationship year-to-year between blockchain adoption the way the internet proliferated, we're pre-CompuServe right now".
If crypto is "pre-Compuserve," then Bitcoin and Altcoins have a very long way to go before they ever become widely adopted. Data shows that last year internet adoption had reached nearly 60% adoption worldwide. If Bitcoin follows the same path, only 50% of the world would be using Bitcoin by the year 2043.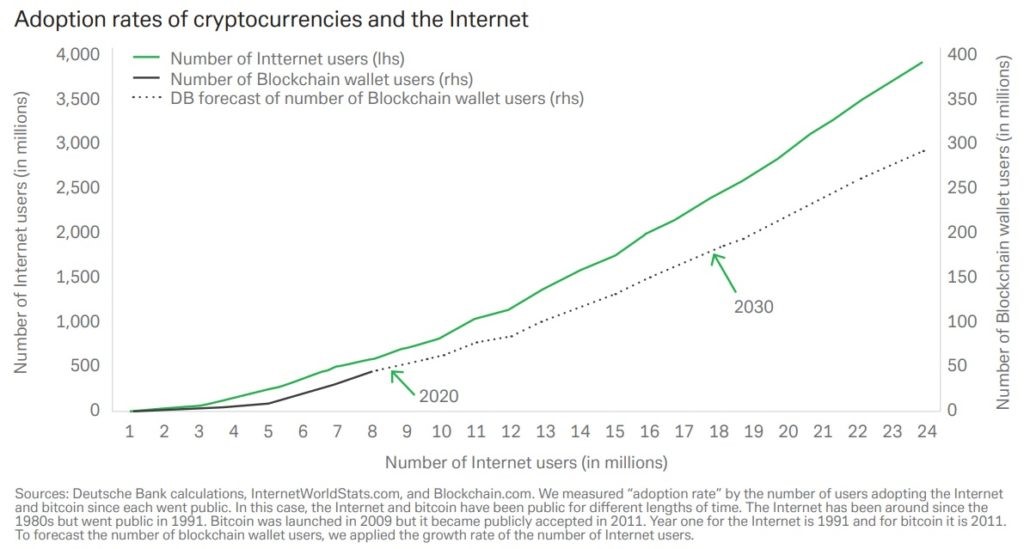 It's Both Still Early And Better Late Than Never With Bitcoin
As the adoption curve continues, Bitcoin's volatility declines. If it seems extremely volatile now, that's another sign that anyone getting into it now is still early – early enough to profit from the enormous price swings in between each peak and trough. While early investors just had to buy and hold, today's Bitcoin investors are traders, looking to grow their holdings by opening long or short positions to profit from each powerful move, regardless of the direction.
Bitcoin is currently between a downtrend and an uptrend, not a bear market anymore but still not a bull market in terms of where it is in its cycle. As volatility declines, cycles also lengthen. This makes Bitcoin a more stable store of value and potential currency.
Adoption Works Against Volatility. The Time to Trade Is Now Before It's Too Late
Steady adoption over the years leads to large market capitalization. The larger the market capitalization, the more market participants, and the less volatile the underlying asset becomes. While there's still plenty of volatility providing opportunities galore, now it is the perfect time to trade the most rewarding asset of the century – before it really does become too late.
For now, while things are still early, Bitcoin margin trading is the best way to profit. Trade Bitcoin and other Bitcoin-based CFDs for stock indices, gold, silver, oil, forex, and more at PrimeXBT.
The award-winning trading platform offers both long and short positions on Bitcoin to play whichever direction the cryptocurrency trends next. Through exposure to traditional markets, BTC traders can take advantage of the extreme volatility there while it stabilizes ahead of the next breakout.
Don't second guess if it's too late or not early enough, it's better late than never, and if the asset reaches some of the wild Bitcoin price predictions, it is still incredibly early for the asset class.
Altcoin News, Bitcoin News, Cryptocurrency news, News, Wall Street

Natallia Maksimenko
Having deep expertise in intercultural communications, Natallia is fond of foreign languages and cultures. She strongly believes that people should continually develop to stay on track, that's why she permanently widens her knowledge in various spheres. Currently, Natallia is fully immersed in crypto, blockchain and financial techs.